Outing to Arroyo Hondo Preserve
Join fellow Harvard alums for a tour and lunch at the majestic Arroyo Hondo Preserve on the Gaviota Coast.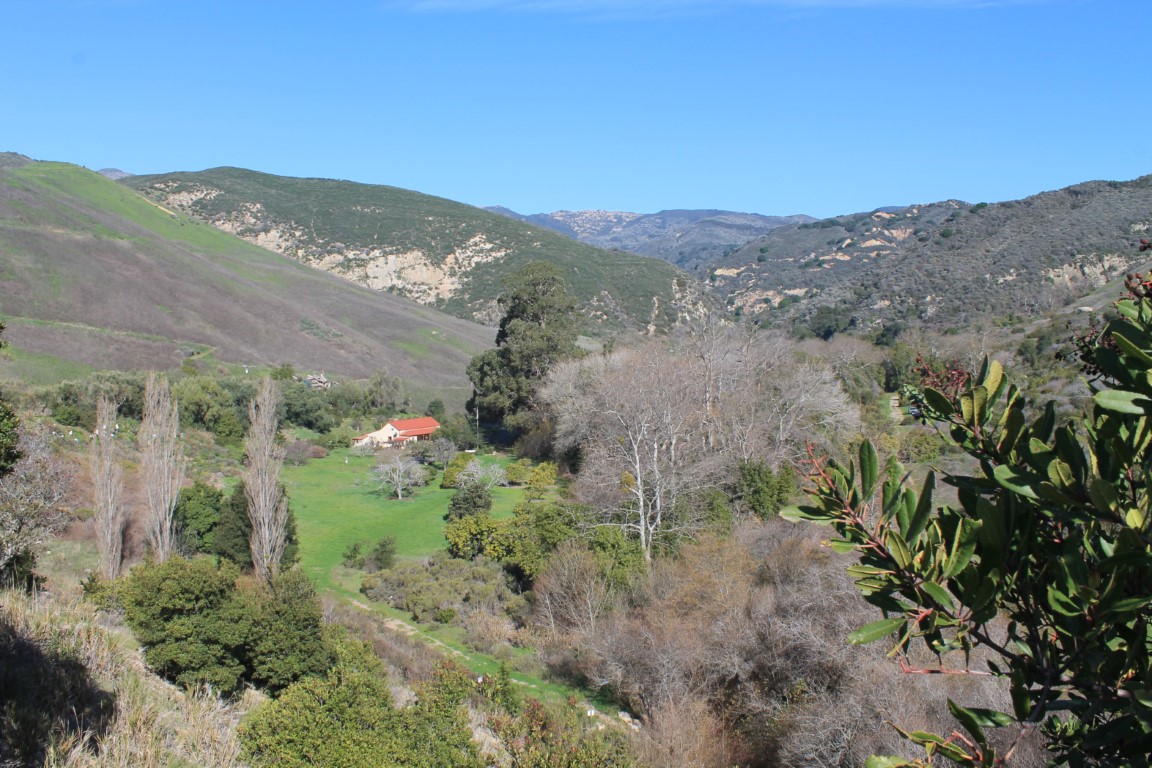 The Harvard Club of Santa Barbara (HCSB) invites all Harvard alums and their guests to an outing on Sunday, May 5th at the Arroyo Hondo Preserve, protected and managed by the Land Trust of Santa Barbara County. Our outing there two years ago (see past event here) was such a great success that we have received many requests to repeat it. We will hike in the Preserve and learn about its unusual history. Our plan is to meet at the Preserve at 10 a.m., tour the historic Ortega adobe, and divide into at least two groups according to preferred levels of difficulty (one of which will be "easy"). At noon we will gather in the Hollister Meadows Picnic Area for a light lunch before leaving the Preserve around 1:00-1:30 p.m. The Club will provide the lunch and water to take on the hike. The cost per person will be $25, of which $5 will be donated to the Preserve.

There are two options for paying for admittance: (1) Tickets may be purchased by clicking the link below. HCSB prefers the online method of simultaneously paying and RSVP'ing, as it provides us with an automated, solid attendance count and RSVP list. (2) However, you may also pay upon arrival at Arroyo Hondo, but send us an email at president@sbharvardclub.org to reserve a place.

Event limited to 40 people. RSVP deadline: Tuesday 4/30.

See photos from event HERE!!

About Arroyo Hondo:
Often called the "Jewel of the Gaviota Coast," the 782-acre Preserve encompasses a magnificent canyon between Refugio State Beach and Gaviota State Park. The old ranch is rich in early California history and has an abundance of outstanding natural features. Within its steep canyon walls is a hidden place of extraordinary beauty and serenity. Cool, stream-side paths through the bay and sycamore trees transition into trails past ancient oak trees, tall yucca blooms and aromatic sages up the high ridges of the Santa Ynez Mountains. (We will not climb the mountains!) The watershed is home to thousands of plant and animal species, including several that are considered threatened or endangered. Purchased from the Hollister family in late 2001 by the Land Trust, Arroyo Hondo represents a singular accomplishment of the conservation efforts that have sought to preserve the Gaviota Coast from Goleta to Point Conception. Here's an aerial video of the Preserve: https://vimeo.com/179078276

Driving Instructions:
From Santa Barbara: Traveling northbound on the U.S. Highway 101, the Preserve is about a thirty minute drive from downtown and approximately four miles past Refugio State Beach. After the Refugio exit, go past the Tajiguas Landfill entrance and, in the next ½ mile, pay attention to the blue CalTrans call boxes spaced one mile apart on the right hand side. The Arroyo Hondo entrance is located at call box #101-412. Make an immediate right hand turn into the driveway. Come down the driveway, cross the bridge, and park near the barn.

From Buellton/Lompoc: Traveling southbound on the U.S. Highway 101, approximately 6 miles past Gaviota State Park and a mile after the Vista Point Rest Area, look for the blue CalTrans Call Box #101-403. Be in the left hand lane. Just after the Call Box, make a U-turn at the Tajiguas Landfill entrance (turn lane provided) onto the northbound lanes of the U.S. Highway 101. In a mile, make a sharp right turn into the Preserve immediately after blue CalTrans Call Box #101-412. Come down the driveway, cross the bridge, and park near the barn.
(If you miss the U-turn heading from Buellton/Lompoc, the next turnaround is at Refugio State Beach about four miles south.)

To return to Santa Barbara from the Preserve: Head north a few miles to Mariposa Reina exit, get off, go over bridge and enter southbound on ramp.


When:
3:00AM - 6:30AM Sun 5 May 2019, Pacific timezone

Where:
Arroyo Hondo Preserve


[ Get Directions ]
Look Who's Coming:
Rhonda Gordon
HCSB
Albert Lindemann
UCSB
Cornelius Passani
HCSB
Carol Passani
Claude Case
HCSB
Susan Case
John Ledlie
Retired
Elisabeth Leader
Human Rights Watch
James Schelling
HCSB board
Cindy Busby
guest of Schelling
Michelle Brown
UCSB
Adam Weiss
David Flattery
HCSB
Judith Flattery
Marc Sylvain
Pauline Sylvain
Mark Schildhauer
Joyce Gauvain
Compton Chase
Mary Foxworthy
Rodney Schrock
Cynthia Schrock
Edward Bookin
HCSB
Eric Torbet
HCSB Administrator
Elizabeth Giele
... a total of 25 guests.
Note: to opt out from this list please sign in, go to My Account and change your preferences under My RSVPs.