Outing to Arroyo Hondo Preserve
Join fellow Harvard alums for a tour and lunch at the majestic Arroyo Hondo Preserve on the Gaviota Coast.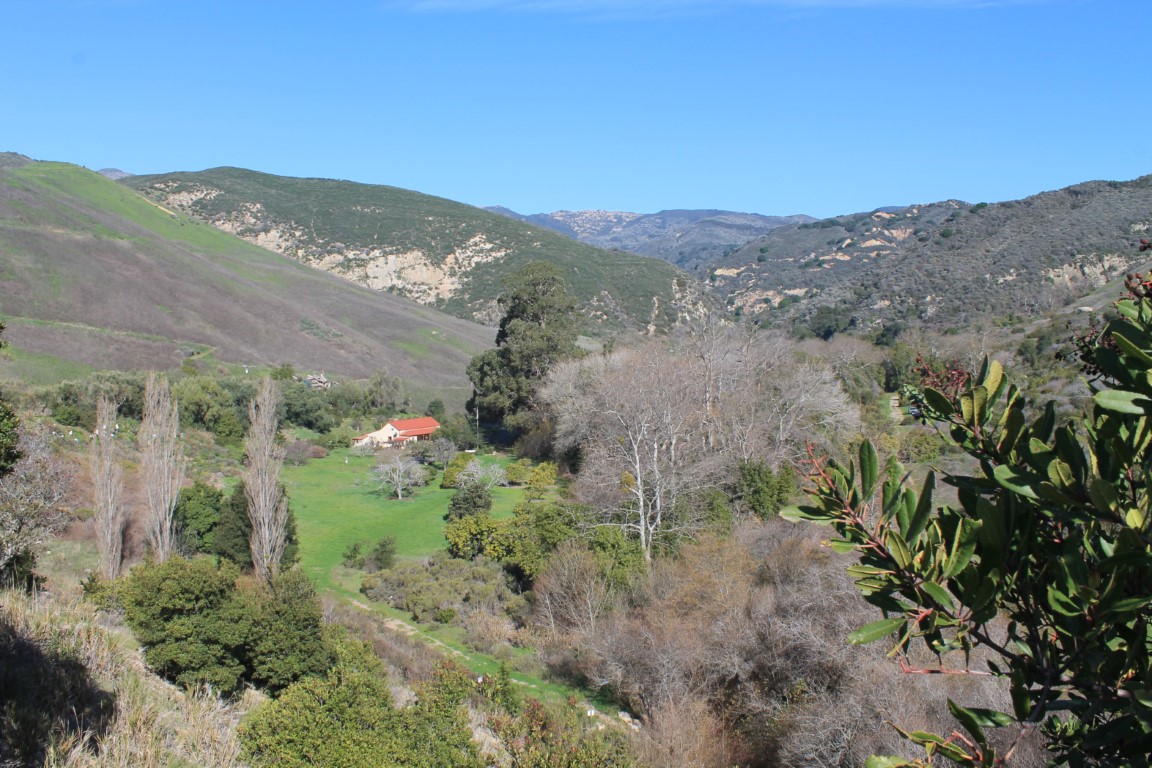 The Harvard Club of Santa Barbara (HCSB) invites all Harvard alums to an outing at the Arroyo Hondo Preserve, protected and managed by the Land Trust of Santa Barbara County. We will hike in the Preserve and learn about its unusual history. Our plan is to meet at the Preserve at 10 a.m., tour the historic Ortega adobe, and divide into at least two groups according to preferred levels of difficulty (one of which will be "easy"). At Noon will we gather in the Hollister Meadows Picnic Area for a light lunch before leaving the Preserve around 1:00-1:30 p.m. The Club will provide the lunch and water to take on the hike. The cost per person will be $20, of which $5 will be donated to the Preserve. (No need to buy a ticket, just pay at the event.)

Often called the "Jewel of the Gaviota Coast," the 782-acre Preserve encompasses a magnificent canyon between Refugio State Beach and Gaviota State Park. The old ranch is rich in early California history and has an abundance of outstanding natural features. Within its steep canyon walls is a hidden place of extraordinary beauty and serenity. Cool, stream-side paths through the bay and sycamore trees transition into trails past ancient oak trees, tall yucca blooms and aromatic sages up the high ridges of the Santa Ynez Mountains. (We will not climb the mountains!) The watershed is home to thousands of plant and animal species, including several that are considered threatened or endangered. Purchased from the Hollister family in late 2001 by the Land Trust, Arroyo Hondo represents a singular accomplishment of the conservation efforts that have sought to preserve the Gaviota Coast from Goleta to Point Conception. Here's an aerial video of the Preserve: https://vimeo.com/179078276

Driving Instructions:
From Santa Barbara: Traveling northbound on the U.S. Highway 101, the Preserve is about a thirty minute drive from downtown and approximately four miles past Refugio State Beach. After the Refugio exit, go past the Tajiguas Landfill entrance and, in the next ½ mile, pay attention to the blue CalTrans call boxes spaced one mile apart on the right hand side. The Arroyo Hondo entrance is located at call box #101-412. Make an immediate right hand turn into the driveway. Come down the driveway, cross the bridge, and park near the barn.

From Buellton/Lompoc: Traveling southbound on the U.S. Highway 101, approximately 6 miles past Gaviota State Park and a mile after the Vista Point Rest Area, look for the blue CalTrans Call Box #101-403. Be in the left hand lane. Just after the Call Box, make a U-turn at the Tajiguas Landfill entrance (turn lane provided) onto the northbound lanes of the U.S. Highway 101. In a mile, make a sharp right turn into the Preserve immediately after blue CalTrans Call Box #101-412. Come down the driveway, cross the bridge, and park near the barn.
(If you miss the U-turn heading from Buellton/Lompoc, the next turnaround is at Refugio State Beach about four miles south.)

To return to Santa Barbara from the Preserve: Head north a few miles to Mariposa Reina exit, get off, go over bridge and enter southbound on ramp.

See photos from event here!

When:
3:00AM - 6:30AM Sat 6 May 2017, Pacific timezone

Where:
Arroyo Hondo Preserve


[ Get Directions ]
RSVP Here...
Look Who's Coming:
Elliot Brownlee
Harvard Club of SB
Mary Brownlee
HCSB
Petra Rees
Impact Coaching & Consulting
Albert Lindemann
HCSB
Barbara Lindemann
HCSB
Baatra Erdene-Ochir
UCSB
William Borgsmiller
ACI JET
Ann Adams
UCSB
Deborah Williams
Consultant
Carol & Cornelius Passani
B.A 68 Harvard Alumni
Jim Villanueva
hcsb
jim and Cindy Schelling and Busby
hcsb
Erik Gregersen
Land Trust for Santa Barbara County
Terri and Charles Chernick
HBS Alumni
Terri and Charles Chernick
HBS Alumni
Stewart Holden

Christine Sontag
married to Stewart Holden
Cynthie Tin-Oo
BMA-NA
Daniel Fishbein
Tatiana Nazarenko
Santa Barbara Newcomers Club
Lansing Moran
HCSB
Pamela Johnston
1958
John Johnston
HBS Alum Husband
Payton Rose
HBS Alum granddaughter
Mark Sherwin
UCSB
David Grace
HLS '81
Valerie Grace
Harvard Alum
John Doyle
Harvard '71
Carol Chase
married to John Doyle
Vic Cole
MBA'58
Pat (Patricia) Green
Guest of Vic Cole
Dana Platt
Coastal Concierge
Jessica Diaz
Brownstein Hyatt Farber Schreck
RichardblealPK RichardblealPK
Richardbleal
... a total of 34 guests.
Note: to opt out from this list please sign in, go to My Account and change your preferences under My RSVPs.