Lecture and Reception with UCSB Professor Ken Hiltner
Exploring Climate Change & Culture Shift
The Harvard Club of Santa Barbara (HCSB), in collaboration with Community Environment Council (CEC) and Wilderness Youth Program (WYP), has organized a lecture and reception with Ken Hiltner, Professor of Environmental Humanities at UCSB, on Thursday, September 12, 5:30–7:30 p.m. Professor Hiltner's lecture topic is: "Exploring Climate Change & Culture Shift." As warnings sound across the globe, why do humans continue the destructive behaviors causing the climate crisis? Why do we seem to be unable to pull together as a species and tackle this existential threat head-on? If we did, where do we start? Join Professor Hiltner for a lively discussion as we try to unpack and understand the biggest problem and the obvious solution to the climate crisis - humans.

The lecture begins at 5:30 p.m. with a reception afterward. The event will be held at the Alhecama Theatre, located at the corner of E. Canon Perdido Street and Santa Barbara Street. The theatre is a part of El Presidio de Santa Barbara State Historic Park in downtown Santa Barbara. There is no on-site parking except for two disabled parking-spaces in front of the theater.
This event is open to the general public. The price is $10 each for all attendees. There are three options for paying. First, tickets can be purchased by clicking the link below. HCSB prefers the online method of simultaneously paying and RSVP'ing, as it provides us with an automated attendance count and RSVP list. Second, if you prefer to pay by check you may do so by mailing your check together with the names of your guests to Harvard Club of Santa Barbara, P.O. Box 1452, Goleta, CA 93116. Please do so by September 1. Third, you may also pay at the door, but send us an email at president@sbharvardclub.org to reserve a place.

This event will be limited to 140 people.

Buy tickets HERE!!!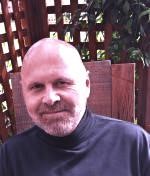 Prior to becoming a Professor of Environmental Humanities at UCSB, Ken Hiltner made his living as a furniture-maker. As a second-generation woodworker, he received commissions from five continents and had collections featured in major metropolitan galleries.
In 2006, he received his PhD from Harvard University, where he garnered several distinctions as a researcher and Teaching Fellow, including the Bowdoin Prize. At UCSB, since 2006, he has served as Director of the Literature and the Environment Center, Director of the Early Modern Center, and Chair of the Graduate Program. He is also the Director the Environmental Humanities Initiative, and has authored several books and articles, recently focusing on how environmental humanities will play a critical role in addressing climate change. He served for a year at Princeton University as the Currie C. and Thomas A. Barron Visiting Professor in the Environment and Humanities at Princeton University's Environmental Institute (PEI).
In his forthcoming book,
Writing a New Environmental Era: Moving Forward to Nature
, Hiltner uses the rise of the automobile and climate change denial literature to explore how our current environmental era came into existence. He argues that we need to see anthropogenic (i.e. human caused) climate change for what it is: a human problem brought about by human actions. He states that, while the natural sciences may be able to tell us how human activities are leading to a rise in atmospheric CO2 and other so called greenhouse gases, the root cause is a range of troubling human activities that require the release of these gases, such as our obsessions with cars, lavish houses, air travel, and endless consumer goods. He argues that the humanities and social sciences, rather than the natural sciences, need to lead us forward so that we can forge a more harmonious relationship with nature in the future. More information regarding Hiltner is available on his website:
http://hiltner.english.ucsb.edu/
When:
5:30PM - 7:30PM Thu 12 Sep 2019 ( Timezone: Pacific )

Where:
Alhecama Theatre
215 E Canon Perdido St
Santa Barbara, CA
[ Get Directions ]
Look Who's Coming:
Adam Weiss
Cynthie Tin Oo
Matthew Stotts
Tenor
Richard Haigh
Elizabeth Barnes
Guest of R. Haigh
Terry Kleiman
denise allec
W. Brownlee
Mary Brownlee
HCSB
Sarah Fox
Albert Lindemann
Barbara Lindemann
Patty DeDominic
DeDominic & Associates, Inc.
Peggy Welik
George Welik
Daniele Huerta
HCSB Board
Kate Flynn
Sun & Swell Foods
Bryan Flynn
Sun & Swell Foods
Lisa Burns
Upper East Association
Karin Aggeler
Terry Aggeler
Robert Roan
Deborah Williams
Melinda Coggi
Guest of Melinda Coggi
Karl Hutterer
Stanley Roden
baba2films
Phyllis de Picciotto
baba2films
Dennis Thompson
Thompson Naylor Architects
Jeff Reiss
Peter Ryan
Citizen's Climate Lobby
Stacy Pulice
Dennis Allen
Bicky Townsend
Bill Goldsmith
Christina Leveque
Guest of Christina Leveque
... a total of 40 guests.
Note: to opt out from this list please sign in, go to My Account and change your preferences under My RSVPs.