The Harvard Krokodiloes return to Santa Barbara!
The world-renowned a cappella singers will perform on Monday Jan. 21 in the Chapel of the Presidio.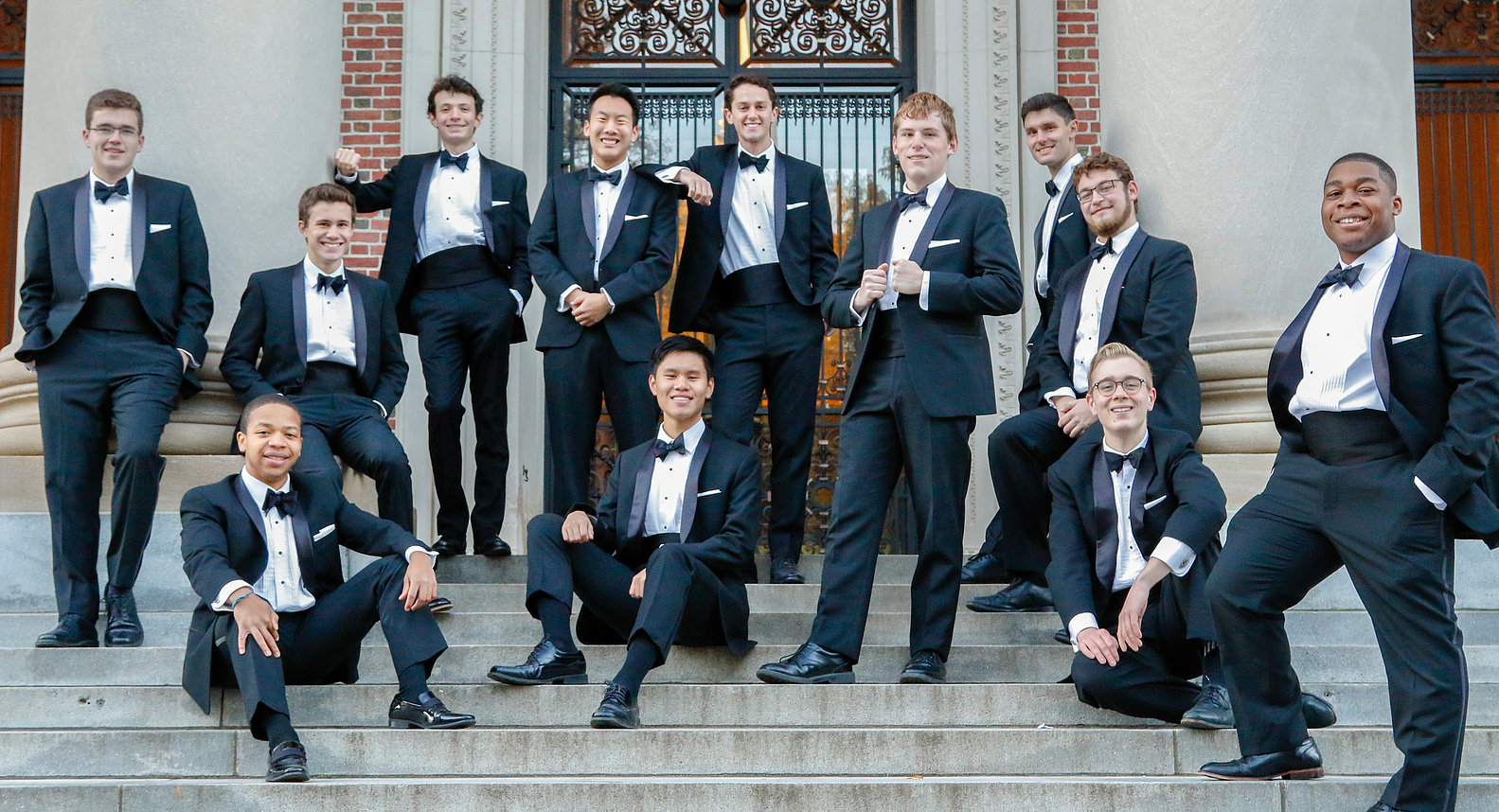 At the invitation of the Harvard Club of Santa Barbara, Harvard's world-renowned a cappella singers, the Krokodiloes, will be performing in Santa Barbara on Monday, January 21, 2019, from 7:30-9:00 p.m., at the Chapel of the Presidio, 123 East Canon Perdido Street. The concert will be followed by a reception. Parking will be available in the two lots on the north side of Canon Perdido Street between Anacapa Street and the Presidio.

This event is open to the public. The price is $25 for each attendee. Seating will be open. There are three options for paying: (1) You may purchase tickets by clicking the link below. (2) You may pay by check, mailing your check to Harvard Club of Santa Barbara, P.O. Box 1452, Goleta, CA 93116. If you send a check, please do so by January 14. (3) Finally, you may also pay at the door. If you plan to do this, please send an email to us at president@sbharvardclub.org to let us know you're coming. Note, however, that there may not be enough seating available to accommodate all those who would prefer to pay at the door. If you pay in advance, your name will be on our list of attendees and you can pick up your ticket(s) at the will-call line.

​This event will be limited to 180 people.

Buy tickets
HERE
!!
(online sales stop at 4:30 p.m.)
View photos from the event
HERE
!

​About the Krokodiloes (more info can be found on their website):
From Cambridge to Cape Town to Carnegie Hall, the Harvard Krokodiloes have delighted audiences worldwide with their unique blend of a cappella harmony and humor. Founded back in 1946 at the historic Hasty Pudding Club, the Krokodiloes are Harvard University's oldest and finest a cappella singing group, now performing for audiences all over the Greater Boston area, the United States, and the world. Having derived their name from the ancient Greek word for crocodile, the group now consists of twelve tuxedo-clad male undergraduates, singing music from the Great American Songbook and beyond.

When:
12:30PM - 2:00PM Mon 21 Jan 2019, Pacific timezone

Where:
Chapel of the Presidio
123 E Canon Perdido St
Santa Barbara, CA
[ Get Directions ]
Look Who's Coming:
Rhonda Gordon
HCSB
Matt Gordon
HCSB
Elliot Brownlee
HCSB
Mary Brownlee
HCSB
Dan Fishbein
Guest of Cynthie Tin Oo
Bob Niehaus
Margie Niehaus
Albert Lindemann
Barbara Lindemann
Emmett Gossen
hcsb
Anil Khosla
Harvard AA
Penny Gossen
Sarah Fox
HCSB
Denny Klos
HCSB
Susan Rakov
Vince Semonsen
Matthew Hall
Anne Hall
Philip Fine
Beverly Holley
Guest of Philip Fine
Guest of Philip Fine
David Bisno
HCSB
Fay Bisno
Bicky Townsend
Bill Goldsmith
Joseph Ullian
Linda Lange
Gail Griffith
Lois Phillips
Dennis Thompson
Thompson Naylor Architects
Leslie Irvine
Robin Nabi
Glenn Noreen
Sandra Atkins
Alfred Noreen
Arlene Noreen
Stanley Ratzlaff
Liam Whitfield
Westmont College
John Engstrom
Retired
Daniele Huerta
HCSB Board
Guest of Daniele Huerta
Guest of Elliot Brownlee
Guest of Elliot Brownlee
Barry Liker
Kit Liker
heidi jessup
Reese Jessup
Pamela Rai
Shaun Rai
Minda Kraines
Guest of Minda Kraines
Guest of Minda Kraines
Guest of Minda Kraines
Catherine Cavadini
Guest of Catherine Cavadini
Pamela Johnston
John Johnston
Payton Rose
1958
Betsy Carlson
James Schelling
Guest of James Schelling
Tara Holbrook
Guest of Tara Holbrook
Daniele Huerta
Sally Fouhse
Guest of Sally Fouhse
Cynthie Tin Oo
D. Bisno guest Eliz Bisno
D. Bisno guest Leslie Bisno
Adam Weiss
Lateral Lawyer Group
Robin Fell
Harrison Fell
Alexander Fell
Ronald Gallo
Santa Barbara Foundation
Andrea Gallo
John bedford
Guest of John bedford
Guest of John bedford
Guest of John bedford
Bonnie Corman PhD
Jason Dominguez
Kaci Dominguez
Ed Bookin
HCSB
David Bruns
Guest of David Bruns
Larry Liddle
Robin Lill
Yongmei Chen
Eugene Ding
Adele Menichella
Guest of Adele Menichella
Guest of Adele Menichella
Steve Hausz
Melissa Gill Hausz
Leslie Zomalt
Ernest Zomalt
... a total of 109 guests.
Note: to opt out from this list please sign in, go to My Account and change your preferences under My RSVPs.