Visit to the Mullin Automotive Museum
Join the Harvard Club of Santa Barbara on a tour of the Mullin Automotive Museum in Oxnard, April 14, 2018.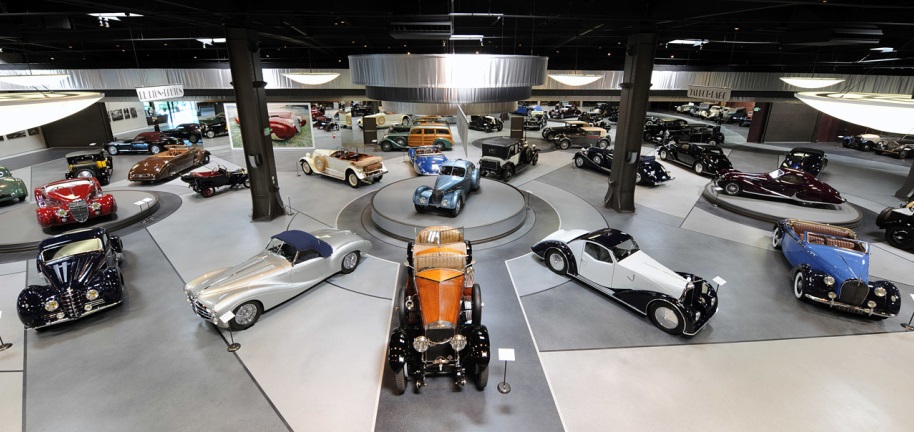 Voted one of the top ten automotive museums in the world, the Mullin Automotive Museum is an homage to the art deco and the machine age – eras that produced exquisite art and magnificent automobiles. The museum is home to the finest Historic French automobiles from Bugatti to Voisin as well as significant and representative decorative art from the 1920s and 1930s. Many of the cars displayed have won prestigious awards at concours d'elegance throughout the world. Also on view are famous French race cars, many of them past winners of historic races such as the Grand Prix de Pau and Le Mans.

The HCSB has arranged for two 1.5 hour-long, docent-led tours on Saturday, April 14: One at 10:00 a.m. and a second at 11:30 a.m. After the tours (around 1 p.m.), we will gather informally for lunch at one of the restaurants in Oxnard's charming Heritage Square. Note that those who come for the first tour will have some extra time to spend in the museum and gift shop before lunch. (For those alumni unable to make it to either of these two tours, the museum does offer a third tour at 1:30 p.m., so it might be possible to join our group for a short lunch then catch this tour.)

Photography is encouraged. However, for the protection of the cars, guests are asked to leave their purses, backpacks, selfie-sticks, mono and tripods either in their vehicles or at the museum's coat check.

This event is open to all Harvard graduates and their guests. Admission can be paid in advance by clicking on the "Buy tickets here!!" link below. If you have your Harvard Key, then first login. If you don't have your Harvard Key, then either obtain it (by following directions on login page), or circumvent logging in by using an alternative email that is not the one you use to receive emails from our club. The Museum also permits payment at the door, so if you prefer to pay this way, just email us at info@sbharvardclub.org to say you're coming so we can expect you.

Address: 1421 Emerson Avenue Oxnard, CA 93033

Website: www.mullinautomotivemuseum.com

Suggested Lunch Spot: Oxnard's Heritage Square has ten National Historic Landmark Houses, and a popular restaurant, La Dolce Vita, 740 S "B" Street, Oxnard, CA 93030. There is also a popular Brazilian restaurant on the water: Moqueca Brazilian Restaurant, 3550 Harbor Blvd. #201, Oxnard, CA 93035.

When:
3:00AM - 7:00AM Sat 14 Apr 2018, Pacific timezone

Where:
Mullin Automotive Museum
1421 Emerson Ave
Oxnard, CA
[ Get Directions ]
Look Who's Coming:
Kenneth Sherman
TVSherman Rydfors
Courtlandt Gross
Howardest of Courtlandt Gross Cohen
Sarah Fox
HCSB
Denny Klos
HCSB
Michael Wolfram
Yama Bassam
White Huns
David Flattery
Judy Flattery
Max Flattery
Michael Schindlinger
Benjamin Schindlinger
Wilson Brownlee
Edward Bookin
HCSB
Michael Purdy
harvard club of santa barbara
Guest of Michael Purdy Jennifer Purdy
... a total of 17 guests.
Note: to opt out from this list please sign in, go to My Account and change your preferences under My RSVPs.