Brunch with Harvard Professor Laurence Tribe
Enjoy brunch at the elegant Santa Barbara Club with a leading expert on constitutional law, Saturday, June 28, 9:00-11:00 a.m.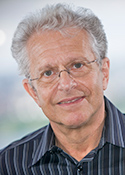 Laurence H. Tribe, the Carl M. Loeb University Professor and Professor of Constitutional Law at Harvard, has taught at its Law School since 1968 and was voted the best professor by the graduating class of 2000. A much sought-after appellate advocate as well as a distinguished academic, Tribe has prevailed in three-fifths of the many appellate cases he has argued (including 35 in the U.S. Supreme Court). The title "University Professor," which Tribe has held since 2004, is Harvard's highest academic honor, awarded to just a handful of professors at any given time and to fewer than 70 professors in all of Harvard University's history. Tribe was appointed in 2010 by President Obama and Attorney General Holder to serve as the first Senior Counselor for Access to Justice; currently serves as a Member of the President's Commission on White House Fellowships; and has written 115 books and articles, including his treatise, American Constitutional Law, cited more than any other legal text since 1950. Former Solicitor General Erwin Griswold wrote: "[N]o book, and no lawyer not on the [Supreme] Court, has ever had a greater influence on the development of American constitutional law," and the Northwestern Law Review opined that no-one else "in American history has… simultaneously achieved Tribe's preeminence… as a practitioner and… scholar of constitutional law."
The Santa Barbara Harvard Club is hosting a special brunch with Prof. Tribe on Saturday, June 28, 9:00-11:00 a.m., at the Santa Barbara Club, located at 1105 Chapala St., Santa Barbara. Please join us to welcome Prof. Tribe to Santa Barbara! The night before, on Friday, June 27, Prof. Tribe will be speaking at the New Vic Theater (33 W. Victoria St., Santa Barbara) on "The Roberts Court, the Constitution, and Our Future", a free lecture co-sponsored by the SB County Bar Association, the Legal Aid Foundation of SB County, and Antioch University. Before this lecture, Prof. Tribe will be introduced by Morgan Chu, President of the Harvard Board of Overseers. More info about the lecture can be found on the Antioch site. At the brunch on Saturday, Prof. Tribe will make a few brief remarks, then open the discussion about the previous night's lecture and his new book Uncertain Justice: The Roberts Court and the Constitution (co-authored with Joshua Matz). Signed copies of his book will be available for purchase both at the lecture and at the brunch.
The brunch will be buffet-style and include a wide selection of items (menu shown below). The brunch is open to all Harvard alumni in the tri-counties area, with a discounted price for HCSB members. The price is $38 for members and up to 3 guests, and $45 for non-members. Tickets can be purchased by clicking the link below. HCSB prefers the online method of simultaneously paying and RSVP'ing, as it provides us with an automated attendance count and RSVP list. However, if you prefer to pay by check you may do so by mailing your check together with the names of your guests to Harvard Club of Santa Barbara, P.O. Box 1452, Goleta, CA 93116. Finally, you may also pay at the door, but please send an email to us at president@sbharvardclub.org to let us know you're coming.
The event is now sold out. If you still want to attend, please email the president to be placed on the waiting list.
Brunch Menu at the Santa Barbara Club:
Fresh Orange Juice, Cranberry Juice and 2% Milk
Fresh Sliced Seasonal Fruits
House Made Bakery Selections: Scones, Croissants and Assorted Breads
Garnishes of Butter, Honey and Jam
Santa Barbara Club Granola
A House Made Mix of Almonds, Pecans and Oats Sweetened with SB Wild Honey
Selection of Plain and Fruit Yogurts
French Toast with Pure Maple Syrup and Fresh Fruit Compote
Scrambled Eggs with Fresh Chives and Aged Cheddar
Egg Whites Available on Request
Roasted Yukon Gold Breakfast Potatoes with Bell Peppers and Onion
Choice of Smoked Bacon or Chicken Apple Sausage
Freshly Brewed Coffee, Decaffeinated Coffee and an Assorted Tea Selection
Click here to buy tickets!!!