Community Service: Orange harvest for Foodbank
Show your volunteer spirit and meet other like-minded alumni/ae as we help two local non-profits, in this second event of our Community Service Series, on Saturday, March 23, 10 am - 1 pm.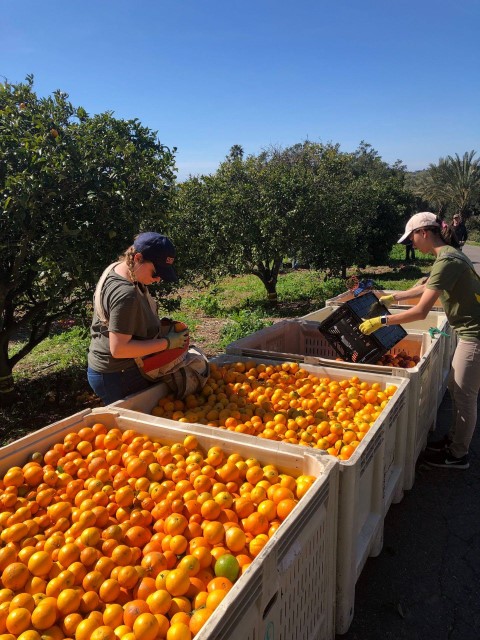 The Harvard Club of Santa Barbara (HCSB) is holding another event in our "Community Service Series" begun last fall (see our first event). For our next event, we will be helping two local non-profits: La Casa de Maria and the Foodbank of SB County. We will harvest fruit (mostly oranges) from the orchard at La Casa de Maria and donate them to the Foodbank.

Nestled in the Montecito hills, La Casa de Maria is a local treasure. This 26-acre interfaith retreat and conference center has been a place of peace and spiritual renewal since 1955. The beautiful property was devastated by the Debris Flow tragedy on 1/9/18 and, with more than half the structures lost, La Casa has been out of operation during the clean-up and rebuilding. However, the orchard (mostly citrus) survived unscathed and the trees are currently abundant with fruit.

The Foodbank of Santa Barbara County's mission is to end hunger and promote good nutrition in Santa Barbara County. They do this in part by receiving donated food and distributing it to those in need. One arm of Foodbank is "Backyard Bounty", which organizes volunteers to carry out "gleans" of local fruit trees filled with fruit that would otherwise go unharvested.

On Saturday, March 23, 10 a.m., we'll meet at La Casa de Maria, 888 San Ysidro Lane, which is the property just before you arrive at San Ysidro Ranch. Backyard Bounty will provide all tools and harvest baskets, and will go over safety rules. We won't be climbing any trees! You can work at your own pace, as every little bit helps. You're also welcome to take some fruit home.

To sign up, please RSVP here on this page (no need to first login with your Harvard Key). But more importantly, please also register with Backyard Bounty, as they need an accurate list of all volunteers attending. To do that, go to:
https://foodbanksbc.volunteerhub.com/
First, you need to "Create Account". When doing that, use the join code HARVARD.
Next, on their calendar find our event on March 23 and click to join. (If you don't find our event on calendar, it's because you didn't use the join code HARVARD.)
(If you have difficulty signing up with Backyard Bounty, please let us know: president@sbharvardclub.org)

Thank-you for your service!

Due to possible rain, this event has been cancelled.


When:
3:00AM - 6:00AM Sat 23 Mar 2019, Pacific timezone

Where:
La Casa de Maria Retreat & Conference Center
888 San Ysidro Lane
Santa Barbara, CA
[ Get Directions ]
RSVP Here...
Look Who's Coming:
Eric Torbet
HCSB Administrator
Elliot Brownlee
HCSB
Jim Schelling
hcsb
Rhonda Gordon
HCSB
Bonnie Corman PhD
self
Steve Hausz +1
Steve Hausz, Architect
Steve Hausz +1
Steve Hausz, Architect
Adele Menichella
Kerstin Benson
HCSB
Matt Gordon
Meredith Collins
Lester Hendrickson
Harvard
Evangeline Ballerini
David Flattery
HCSB
Judy Flattery
HCSB
Daniele Huerta
HCSB Board
Mary Brownlee
HCSB
... a total of 17 guests.
Note: to opt out from this list please sign in, go to My Account and change your preferences under My RSVPs.